MTV VMAS – Best Dressed & Highlights
by
ChinaBambi
Miley Cyrus hosted this years VMAs, and for those who don't know what her shtick is, these trailers sums it up quite well. None expected a quiet evening with a cordial host …
Host Miley Cyrus was … a lot. As you'd expect.
For those who are interested in award gong design, fashion don Jeremy Scott re-jigged the Moonman this year.
He's was at the awards too.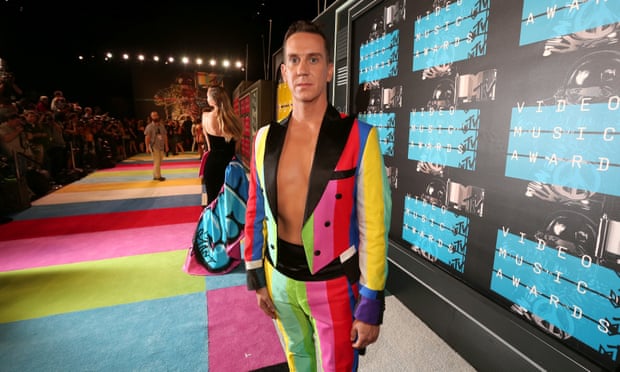 Kanye West delivered a rambling speech and maybe announced a run for president
Taylor Swift presented West with the Michael Jackson Video Vanguard Award, which is basically the VMAs' equivalent of a lifetime achievement award (though often given to artists at the height of their careers). That was the first sign that this segment would lean heavily on that incident in 2009, when West interrupted Swift's acceptance speech for Best Female Video to say Beyoncé deserved the prize instead.
West played along with a game smile. But when he got on the stage to accept the award, he conveyed a rather different message than amusement:
It crosses my mind a little bit like when I go to the baseball game and, like, 60,000 people boo me…I think if I had to do it all again, what would I have done? Would I have worn a leather shirt? Would I have drank a half a bottle of Hennessy and gave the rest of it to the audience?…If I had a daughter at that time, would I have went on stage and grabbed the mic from someone else's?
It's unclear what West's answers to his own questions are. At the very least, it's clear that the night's incredible fallout, voracious coverage, and finding himself becoming a villain in the larger pop-culture consciousness have all been weighing heavily on his mind.
Overall, West's speech was clumsy, stopping and starting as he tried to articulate his complex feelings. Still, there was a lot of revealing stuff in there, between his command to "listen to the kids."
He called out MTV for milking the "beef" with Swift:
"You know how many times MTV ran that footage again? Because it got them more ratings? You know how many times they announced Taylor was gonna give me the award, because it got them more ratings?"
He stuck to one of the evening's most prevalent themes (a.k.a. "I like weed"):
Y'all might be thinking right now, I wonder, did he smoke some before he came out here? The answer is, yes, I rolled up a little something. I knocked the edge off.
He admitted to past insecurity, then just as quickly rejected it:
I just wanted people to like me more. But fuck that, bro! 2015! I will die for the art, for what I believe in. And the art ain't always gonna be polite.
Finally, he assured us that the 2016 elections are not the be all, end all:
And yes, as you probably could have guessed by this moment, I have decided, in 2020, to run for president.
Somewhere out there, Kris Jenner sat a little straighter, smiled, and whispered to herself: "First Lady Kardashian."
Swift's completely unsurprising string of wins accidentally defined the night
To no one's surprise, Taylor Swift owned the night. The VMAs are decided by a fan vote, and Swift's social media presence is second to none for MTV's demographics. In addition to Female Video of the Year for "Blank Space," she took home Video of the Year for her action- and celebrity-friend-packed "Bad Blood." She even debuted a romantic new video for her song "Wildest Dreams," co-starring Scott Eastwood and safari animals.
VIDEO: Minaj calls out Cyrus
VIDEO: Bieber cried.. lol
Miley Performed with Drag Queens for show finale
Best Dressed
My fav was Taylor – Go girl!
Not so best Dressed
Cute dress but not for you sorry Audrey.
Rebel I love you but not this dress.. your policeman outfit however was amazing!:
VB
X