ANT-MAN – Trailer
by
ChinaBambi
It's barely been three weeks since Avengers: Age of Ultron premiered to a record-breaking box office, but the Marvel movie-making machine can't stop to celebrate as it rumbles ever onwards. Ant-Man is the studio's next release, and ahead of its July 17th premiere, Marvel has shown off yet more footage of the shrinking superhero. The latest trailer aired during the series finale of Agents of SHIELD, and shows Rudd meeting mentor Michael Douglas, earning his miniaturizing suit, and being punched in the face — repeatedly.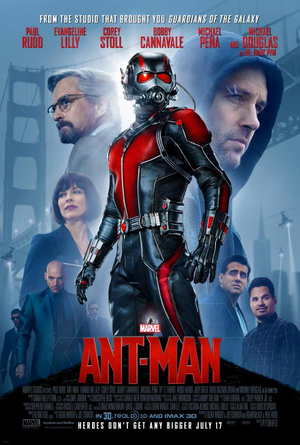 Between them, the Avengers have enough firepower to wreck vast cities. Ant-Man's action looks to be a little smaller in scope — the most recent TV spot has Paul Rudd and antagonist Yellow Jacket tussling on a toy train track before being hit by a child-sized Thomas the Tank Engine. Nonetheless, the fun-sized Ant-Man is still super in stature, and future Marvel movies will undoubtedly see him link up with the comic book company's other, taller, heroes.
Source: The Verge 
Another big film for this year.. we are so spoilt!
I watched Mad Max: Fury Road on Thursday and it is AMAZING! A MUST SEE MOVIE!
I have also booked my tickets for Tomorrowland and Jurassic World! …the next few months are going to be so exciting for cinema!!! 😀
VB
X